Welcome to Pipe Freezing Systems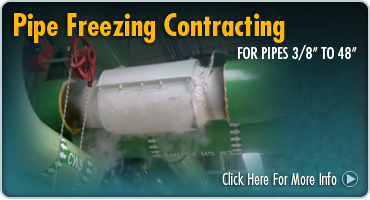 Pipe Freezing is the proven method that permits repairs and installation without draining the entire piping systems. Freezing the product inside the pipe to form a solid ice plug, allows for no system down time or interruption. After the work is completed, the ice plug thaws and the line is restored to full operation. Using liquid nitrogen, Pipe Freezing Systems Contracting is able to freeze pipes up to 48".
Pipe Freezing Systems is located in the Antioch, Illinois; a suburb just north of Chicago, and we deploy our services all over the Midwest and throughout United States. With over 30 years experience PFS brings to each job site, we have learned that safety, quality of work and trained technicians win the respect of our customers! Our record is 100% without damage to piping or product. Pipe Freezing is all we do!

Pipe Freezing Systems Contracting uses liquid nitrogen and can freeze from 3/8" to 48". Qualified and trained PFS technicians will come to your site to perform the pipe freezing contracting process. If you would like quote for performing service, please check out our request a quote form.
Have Any Questions?
We'd be happy to help answer any questions you might have! Feel free to contact us today!